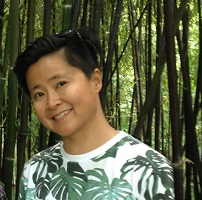 I am a Clinical Counsellor in private practice, Mindfulness Consultant and Educator with a Master's of Education in Counselling Psychology (OISE, UT) and identify as
Chinese-Taiwanese and trans
. I am a Certified Canadian Counsellor with the
Canadian Counselling and Psychotherapy Association.


I am based in Vancouver, BC.
​
I offer services in the areas of:
​Individual Counselling
Mindfulness Based Counselling Groups for Clients and Employees from a Trauma Informed and Anti-oppression Appoach
Clinical Training and Professional Development Workshops in:

Diverse Gender Identities Awareness for Counsellors, Health Care Professionals, Educators and Service Providers
Self-compassion for Clinical Resiliencies
Embodied Anti-oppression Practices
I have over 18 years of experience in front line counselling, group facilitation, program design and curriculum development serving marginalized communities in educational, community health and social service settings.
It is a source of joy for me to create spaces where people can make contact with who they truly are. I thrive from teaching embodied curriculum for social transformation.
My work is centred with respect, compassion, understanding and with genuine intention to serve.
If you are interested in my work, feel free to contact me at
lu@lulam.ca
or 778-829-8959
.
Registrations
Certified Canadian Counsellor (C.C.C.), Canadian Counselling and Psychotherapy Association
Credentials
M.Ed., Counselling Psychology
OISE, University of Toronto
B.Sc., Natural Resource Conservation
Minor in Human Geography (Feminist, Social, Behavioural)
University of British Columbia
Selected Additional Training
Understanding and Managing Aggressive Behaviour Orientation Program, The Hinks-Dellcrest Centre
Narrative Therapy Intensive Training Program, Narrative Therapy Centre Of Toronto
Client Documentation Training, Dr. Robert Solomon, Faculty of Law, University of Western Ontario
Cultivation of Mindfulness in Schools, A Retreat for Educators with Thich Nhat Hanh,
European Institute of Applied Buddhism
Joy and woe are woven fine,
A clothing for the soul divine,
Under every grief and pine,
Runs a joy with silken twine.

~ William Blake
---